The building
Visiting us means stepping into another century. Our house was built 1910, for the chief physician of the new hospital near Långbro. You can still experience the old architecture and sit by the same marble fireplace that warmed the physician and his family. Today you can eat lunch and dinner in one of the building's many beautiful rooms, both downstairs and upstairs. Original details and a rustic design offers a warm and welcoming atmosphere.
The beautiful manor is situated at the entrance of an English park with large lawns, towering trees  and a picturesque pond. Nowadays the Långbro park is a popular place for relaxing walks – both for residents of the area and for guests visiting the restaurant.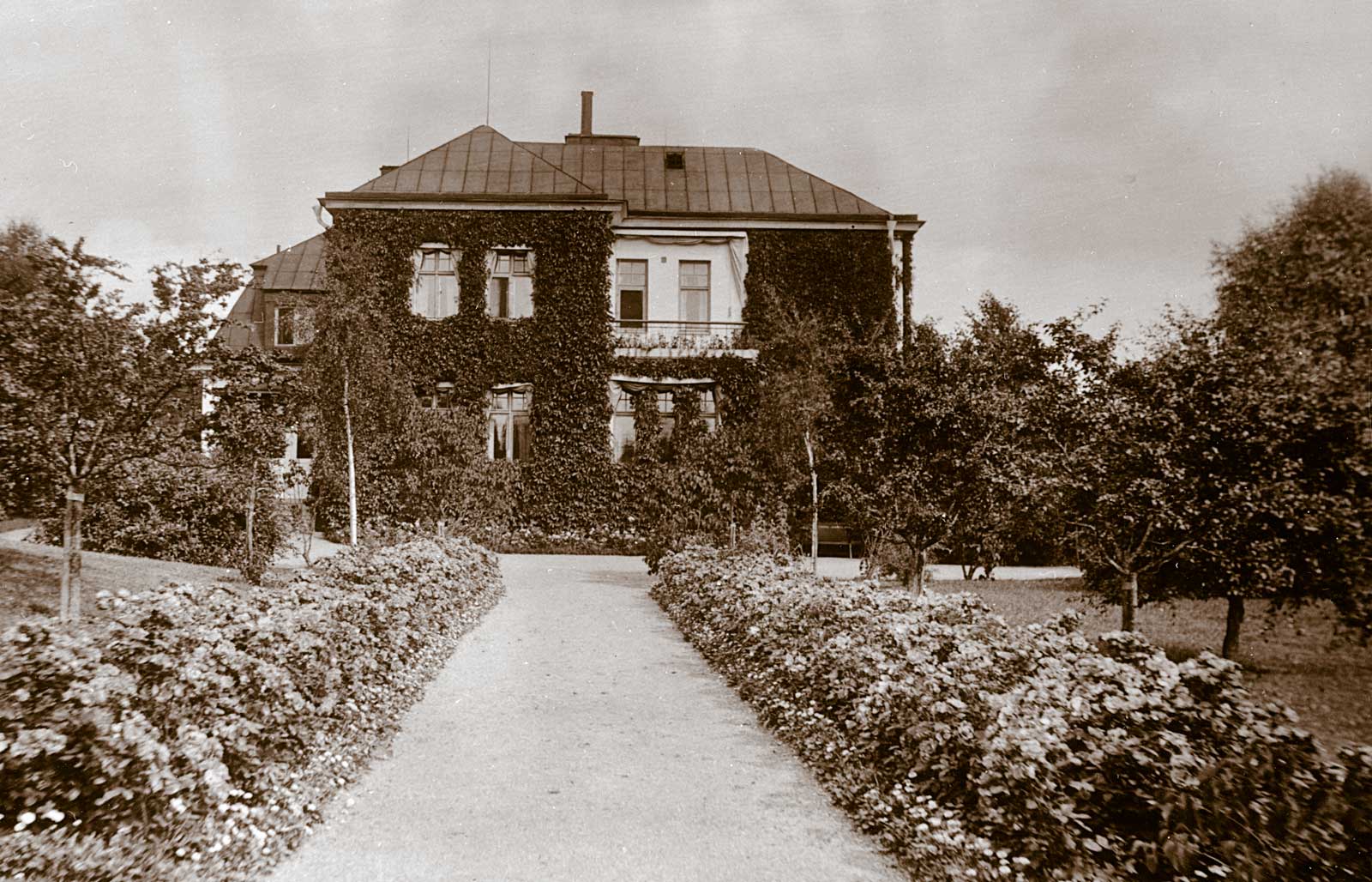 The history of the building
1905 The construction of the manor begins. The architect Gustaf Wickman chooses to design the house in a jugend style.
1909 June 17th sees the manor finalised. The building is 476 square metres and surrounded by a large garden, enclosed by hedges and beautiful fences. The interior is lavish with paneling, stucco work and fireplaces in a style described as "baroque jugend". This is the year the first chief physician, Olov Kinberg, moves in with his family.
1911 An English style park with winding walkways and an artificial pond is constructed. In the middle of the pond an island is built, which can be reached by two arching bridges. A swan house is also built on the island, for the two wing-clipped swans residing by the pond. The pond also houses fish, at first crucian carp, but later grass carp from Poland.
1927 Chief physician Kinberg is fired for taking food for his pig from the hospital's kitchen without paying.
1939-1945 This period, the top floor is closed in winter due to a shortage of fuel during the war. Chief physician Sten Stenberg who is living in the house at the time opens his house to fugitives from different countries.
1959 Associate professor Erik Goldkuhl moves out and is thus the last chief physician to be a resident of the manor.
1960 The manor is rebuilt. The bottom floor is repurposed to make room for a café, a barber and a socio-therapist. The basement is refurnished to serve as a carpentry and a metal workshop, while the top floor houses a textile workshop.
1994 The manor is refurbished and rebuilt as an inn.
1998 JM buys the entire park and begins to develop the area with housing and commerce.
2004 The inn closes.
2005 August 1st, Fredrik Eriksson and his partners buys the manor from JM and gives it a complete overhaul. October 15th sees the grand opening of Långbro Värdshus.